The perfect solution for high traffic areas where heat loss is a primary concern.
High Speed Doors
Our High Speed Doors provide an energy saving solution for high traffic areas. The doors are able to resist winds of over 60mph and wind loads of up to class 5. The single phase opening drive has an opening speed of 1s variable to 2.5s.
High Speed Insulated Doors
High Speed Insulated Doors offer a higher degree of security when installed at a perimeter opening.
Our High Speed Insulated Roller Shutter Door operates at speeds of 800mm/s to 1,000mm/s. The door opens almost instantly, and it closes automatically once the opening is clear.
Our High Speed Insulated Doors have an overall insulation value of 4.8W/m²K.
The 110mm deep ribbed face panels are available in a range of standard RAL and BS colours. Glazed vision panels are available as a specified extra.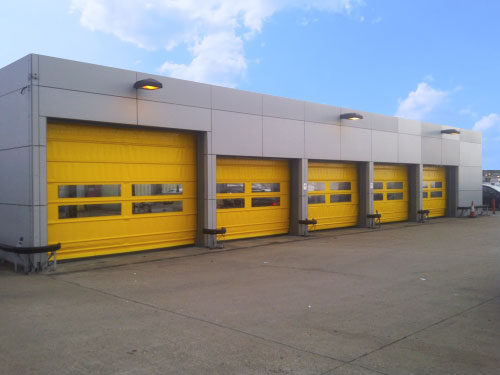 Site Installation
Where we are contracted to supply, deliver and install the shutter unit, this on the basis that the opening is complete to agreed detail and is clear and safe to allow installation to proceed in keeping with the safety policy. The client to provide a suitable power supply for hand tools to effect on site drilling. We do not allow for any builders work or modifications to the structure.
Powder Coat Finishes
Powder coat finishes to shutter components in standard RAL or BS Standard colours are available, also special colours if samples are aprovided for us to analyse.
Our Range of Doors & Accessories